Local Artisans Guide
We know artisans have been struggling with craft shows being canceled so we've been putting our thinking caps on to figure out how we can help. We can start by getting more eyes on your wares with our Local Artisans Guide, featuring artisans in PA & NJ! We are also going to temporarily discount the cost to be highlighted in the Guide from $195 to $150!
COST SUMMARY:
Local Artisans Guide Highlighted Listing: $195 $150 - SIGN UP NOW
Highlighted Listing Details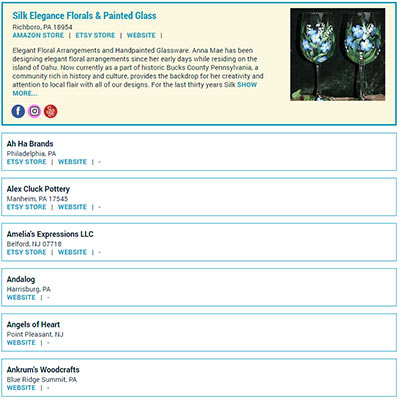 When you sign up to be a Highlighted Artisan in our Local Artisans Guide for one year at a discounted cost of $150, you will get a gold highlighted listing which appears both AT THE TOP OF THE PAGE randomly rotating with other program participants, as well as in alphabetical order below the Highlighted listings (also with the gold background). Your listing will contain:
Contact information (company name, address, phone number, website and email);
A business description;
A photo;
Links for a coupon, map, reviews, YouTube video, and social media pages;
Direct link to your website, Etsy store, Amazon store and/or other online store.
If you have any questions email Mary Ann at .